Dalton Caldwell, 32, is the founder and CEO of App.net but how he got there is a long story. A native from Texas, he went to university in Stanford, Calif., then joined Symbolic Systems in 2003. He was a precursor in social networks (check his bio on wikipedia) at the time (2003) when Friendster was around; he is the creator of Imeem, which was "originally a Skype-modelled Desktop social network in a peer-to-peer approach".  After multiple incarnations it became a music sharing system, the 75th largest website in the world and "the first legal music downloading system". Imeem, as it was called, was eventually acquired by Myspace in 2009. Caldwell was also awarded the best mobile app award by Techcrunch as early as 2008, when mobile was unknown to most. Now you start to understand. Dalton Caldwell is a trail-blazer, and anything but the average start-up founder, he is a true wizard, a brilliant mind who is responsible for the latest buzz in social media in the valley … and the rest of the world. Imagine that, he turned down an "acqui-hire" offer by Facebook which could have made him even richer than he already is.
Is App.net 's Dalton Caldwell the new Zuckerberg?
Now, will app.net replace Facebook and Dalton Caldwell be the new Zuckerberg? If he dons the same kind of hoodies, needless to say his philosophy is entirely different; and I have to admit that I like it a lot … Let's zoom in on app.net with the notes taken during the interview we had with him last week during the blogger bus tour in Soma*, San Francisco:

[Dalton Caldwell, the CEO and founder of app.net]
Caldwell launches mobile photo sharing app before Instagram and loses
Caldwell and his teams wanted "to do something which is mobile first". What with the immense success of applications like Instagram and Pinterest, the focus is on mobile. Facebook is getting to grips with this now that analysts are criticising them for not being able to monetise on mobiles at a a time when users are shifting from Web to smartphones.
Two and half years ago, the team started working on a mobile photo sharing "pre-instagram" application named Picplz. After they raised funds and came to realisation they would only lose the battle against Instagram, they did the right thing, folded Picpliz and went on to the next thing. It often happens like this in Silicon Valley. In the high-tech business, Pivoting moments like this happen all the time. Don't forget that Google ended up being a search engine after Yahoo! had refused to buy their algorithm (as per the story described in Scott Berkun's The Myths of Innovation).
App.net 's Caldwell turns down acqui-hire by Facebook
The team then "took a few shots with the same infrastructure" and of Caldwell's own accord, "this is why they were able to catch up so quickly with App.net". The first idea was to help third party developers find how to integrate their apps within Facebook or Twitter. Caldwell's team started building more tools for the Facebook platform and after opengraph "came to fruition, it all worked so well with Facebook that they wanted to "acqui-hire" them". Yet, Caldwell "wasn't enthusiastic" to put it in his own words. A friend of his then suggested not to worry about the websites but to focus on the APIs. This was in 2008-2009. App.net wasn't yet what it is now.
Social Networks becoming ad companies will shut down their APIs
If most social networks like Twitter and Facebook started off as APIs and helped build entire ecosystems around them, "[they] couldn't stick to this because of monetisation" Caldwell explained. He then wrote a blog post (What Twitter could have been) on July 1 (a Sunday) in which he vented his frustration. Little did he know that his post would attract a hug following and that he was about to start something new. The blog post "took off, with hundreds of thousands of visits, (even though it only consists of a few paragraphs). In that piece, Dalton Caldwell contends that "every API will be closed by social networks because [popular social networks] went away from being API companies to become ad companies and it means that they have to control everything".
if they decide to close their APIs, then why not build an API?
"The idea then became to build an API company!" Caldwell went on. "Most people don't know how bad things are, and they will notice in the next few months that certain applications stop working" he said.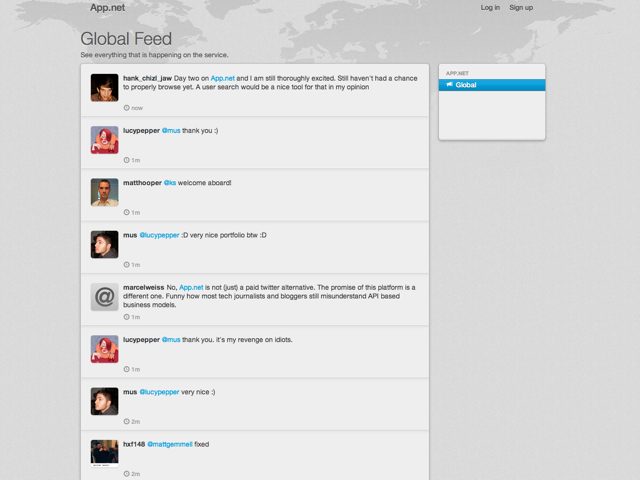 [apps.net : global feed page]
Crowd-funding … in a matter of weeks

This is how app.net was given a front end which "looks like Twitter looked in 2007" the young entrepreneur added. Just as a proof of concept, for this front-end is not meant to be a Twitter replacement. Developers are proposed to build applications on it. Imagine a social chess game for instance, all built on the common API and digging from the common user base.
The new project son attracted 10,000 users in a matter of weeks. Which means that the $ 500k goal the company had set up for themselves by the end of August. "This is how start-ups work" Dalton Caldwell explained: "if Youtube had launched 6 month later or before it wouldn't have succeeded. Social media made it happen it wasn't us. We are just under 20,000 users now. No idea how long it will take for them to have million of users versus the current 20,000. I don't know how long it will take us to reach millions, maybe it will never do. In fact in depends on whether somebody develops a killer application based on the App.net AP!" he said.
A lot of people got angry
Caldwell admitted to making a lot of people angry; with a few lines he put his finger on a fundamental issue which is plaguing the current development of social media. Social networks were developed with the idea that Marketing could be done differently and barely 3 years ago, the world was buzzing with Tara Hunt's Whuffie Factor concept, a founding book placing social capital over financial value. With the race to monetisation – which grew even worse with Facebook's IPO – all of this is gone for good. We are left with advertising and I admit to sharing Caldwell's frustration; a frustration I had already vented a year and a half ago as President of Media Aces in France.
"We are building a privacy model and we are not going to impose a business model" Caldwell concluded. "Those who build the best apps will be rewarded and there are 6 apps in the application store so far" he said.
Embrace the philosophy … well worth $50
It's hard to tell whether App.net will scale to millions of users like other platforms. As a matter of fact, it's not even competing on the same level at all. At any rate, for social media veterans like me, Caldwell is spot on in terms of how he approaches social media and it's well worth $50 in my eyes. After all, app.net may well just remain a social network for the happy few who want to escape interruption marketing and the use of your private data and content by public companies. If only for that, I feel like joining App.net and supporting Dalton and his teams.
Caldwell may not be the next Zuckerberg after all, maybe just the other way round. Small is beautiful!
Notes
---
*Soma = South of MarketMarket definition in B2B and B2C - The very notion of "market" is at the heart of any marketing approach. A market can be defined... (downtown San Francisco district situated south of 'Market', a major artery in the centre of the City.
Latest posts by Yann Gourvennec
(see all)
Follow Us